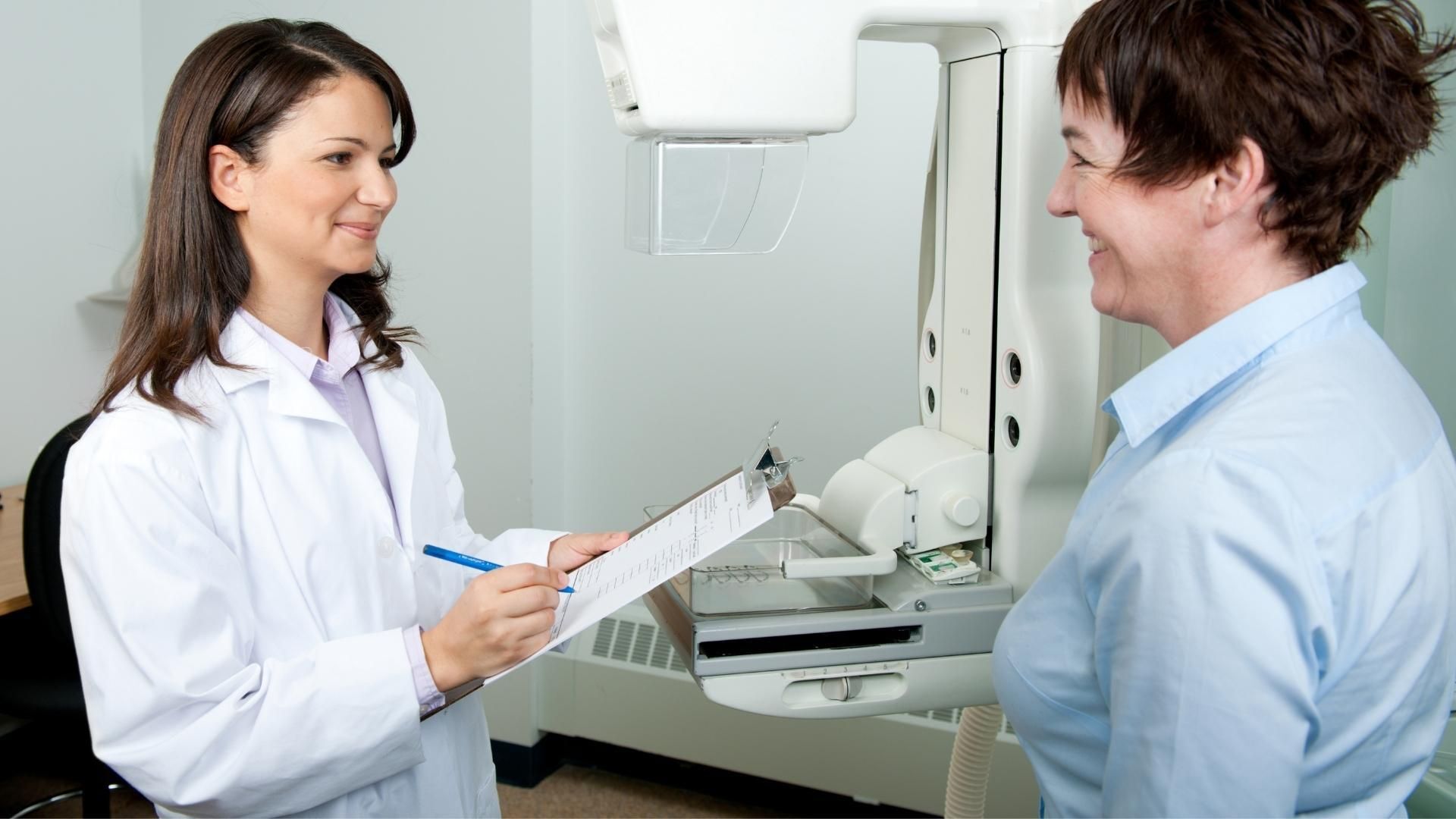 Mammograms are an essential part of any woman's long-term healthcare plan. We understand that getting a mammogram can be stressful, which is why we take every measure to ensure that our patients have a comfortable experience. Our team of experts is always available to answer any questions and provide the highest-quality care possible. Here's a brief overview of breast cancer risk factors and what to expect from a mammography service at Franciscan Healthcare. 
Common Breast Cancer Risk Factors 
This can be a tough subject to discuss. Sadly, breast cancer is the most common form of cancer for women in the United States. Many of us know personal friends or close loved ones who have been deeply affected by this disease. However, understanding common risk factors can empower you to take a more proactive role in your healthcare. Some common risk factors for breast cancer include: 
Age of 55+, 
Dense breast tissue, 
Alcohol abuse,  
Obesity, 
Physical inactivity, 
Oral contraceptives, and 
Estrogen or hormone therapy. 
Breast cancer is most common among women, but men can develop it, too. Although this condition is the second leading cause of death in American women, death rates have been steadily declining for the past 40 years. This is most likely due to better treatments, as well as earlier screening and increased awareness. Regular mammograms, along with routine self-exams, are reliable methods of diagnosing breast cancer as early as possible. 
The American Cancer Society recommends that most women get annual mammograms starting at age 40. While these routine exams aren't foolproof, they can often identify cancer during its earliest stages. Mammograms are important because an early diagnosis is essential for successful breast cancer treatment and recovery. 
Digital and 3D Mammography 
Mammography has come a long way over the past few decades. Recent advances in imaging techniques have led to the introduction of digital mammograms and 3D mammography. 3D mammography involves taking several digital images of breast tissue and converting them into a three-dimensional, digital picture. 
Digital and 3D mammography are innovative imaging techniques that provide benefits for both patients and physicians. For example, one study suggests that digital mammography may involve less radiation than traditional screen-film mammography. Another found that the addition of 3D mammography to digital and screen-film techniques may improve screening accuracy. 
We perform digital 3D mammography in our radiology hospital for multiple reasons. For one, it empowers our radiologists to isolate high-quality digital images in detail. This may also reduce the number of false positives, which are often associated with single-exposure imaging. Our radiologists use this technique to confidently interpret your mammogram without the need for added screenings, reducing your overall cost and time commitment. 
Our Mammography Service 
Before your mammogram appointment, we recommend having your previous healthcare provider send us any prior images they may have on file. This will allow us to compare them to your current mammogram and more easily find any changes. It's also important to check with your insurance provider to ensure they will cover your 3D mammogram. 
On the day of your mammogram, please arrive about 15 minutes early and check in at the Dinklage Medical Clinic. We ask that you bring your current insurance information to your appointment. Also, please let us know if you're pregnant, and avoid wearing lotion, deodorant, or talcum powder as they may interfere with the images. 
When you arrive for your mammogram, our team of friendly and professional staff members will greet you with a smile. We may ask you to fill out some paperwork, then one of our staff will escort you to your private exam room. We'll provide you with a clean gown to wear during the exam, and we may ask you to remove your jewelry. 
Your mammogram will be performed by a licensed mammographer with years of experience. They will ask you to stand in front of an imaging machine and place your breast on a platform. Then, they will position the machine over your breast and compress it with a clear paddle. Don't worry—this necessary step is painless and only lasts for a few seconds. The actual mammogram itself only takes a few minutes. 
Our entire mammography service takes about 30 minutes. Once the exam is finished, you may dress and schedule a follow-up appointment, if necessary. You should receive your results within 24 hours through Radiology Consultants of the Midwest, and our staff will gladly review your mammogram during your next appointment. 
Schedule Your Mammogram Today 
We provide mammogram appointments Monday through Friday from 8:00 am to 5:00 pm at our radiology department. You're welcome to arrange a time that best fits your schedule, whether with us directly or through your local physician or specialist. Simply give us a call at 402-372-2404, email info@franhealth.org, or contact us online to get started today.