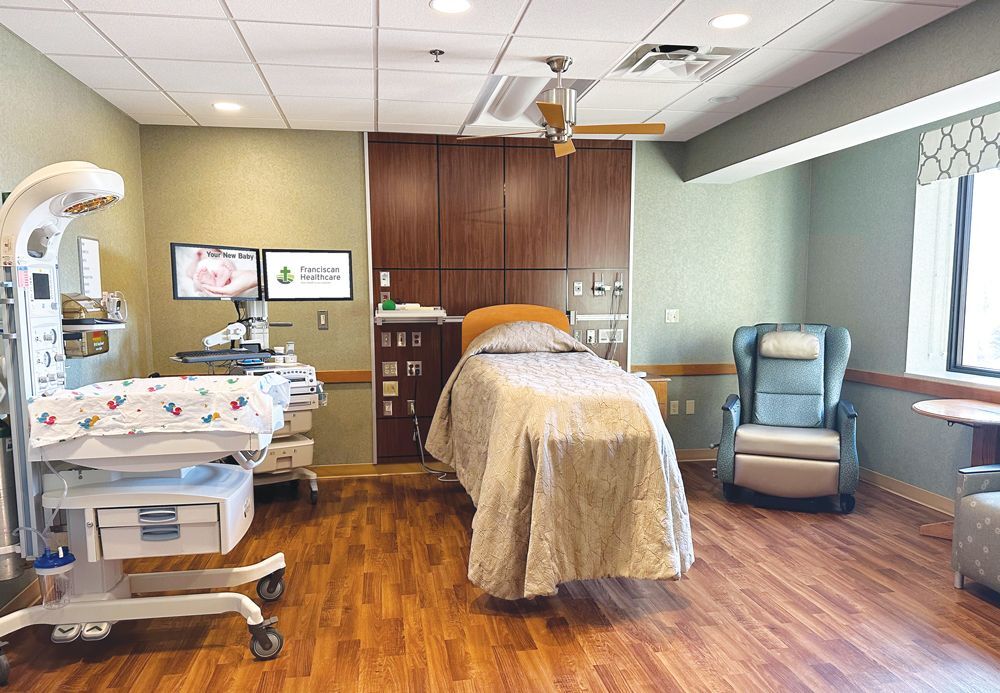 We hope you choose Franciscan Healthcare to deliver your baby. We don't like delivering babies, WE LOVE IT!
Our state-of-the-art Franciscan Healthcare Birthing Center offers all the latest technology and conveniences.
We understand your needs: privacy, great care, and a compassionate, smart team of professionals. Our Labor and Delivery rooms are separate from the other patient rooms and are spacious, modern, and fully equipped to handle each labor and delivery!
Our physicians want you to be comfortable every step of the way. Local anesthesia professionals are available 24 hours a day, every day of the year for epidural pain relief through labor and cesarean sections.
Our medical staff have all the latest obstetric and delivery training and have delivered thousands of babies. Should you or your baby need immediate care, our family medicine specialists are only minutes away.
Our private recovery rooms are large, comfortable and convenient for you, your baby and family. We keep you and your baby close to the nursery and nurses' station so you get both the attention you need and privacy you want.
We have Certified Lactation Counselors to help with all your breastfeeding needs!
FREE education classes are available to help you prepare for labor and delivery as well as feeding and taking care of your newborn.
A follow-up phone call to all our new mothers is provided within 7-10 days after discharge. The clinic and hospital staff are also available 24/7 for any questions or concerns that may come up after you leave our care.
We want to keep your precious baby safe on the road! Car seat technicians inspect each infant and car seat at discharge to assist the parents with correct fit for their newborn. Our Car Seat Inspection Station, as well as car seat check-up events (held throughout the year), focus on the safety of little ones in vehicles. 
Coordination with the Methodist Women's Hospital in Omaha through Perinatal Outreach Services keeps our staff and facility up to date with the latest technology.
Approximately one month before baby arrives, pre-admittance sessions are held with each expectant mother. Health history, consent forms, and education are included with this session. 
Free Childbirth Education Classes
All classes are held at:
Franciscan Healthcare
Educational Class Rooms on the second floor
430 North Monitor Street
Classes are held every other month in the evenings.
Educational Classes
Infant Care
5:30 - 7:30 p.m.
1st Monday in February
1st Monday in  May 
1st Monday in  August 
1st Monday in  November
Prepared Childbirth
5:30 - 8:30 p.m.
2nd Monday in February 
2nd Monday in May
2nd Monday in August
2nd Monday in November 
Breast Feeding
5:30 - 7:30 p.m.
3rd Monday in February
3rd Monday in May
3rd Monday in August
3rd Monday in November
Infant Care
This class helps prepare you to care for your newborn baby. This is especially helpful for first-time parents but is a good review for all parents. We suggest taking the class before your baby is born.
This class includes:
Feeding your baby
Bathing
Jaundice
Circumcision
Cord Care
Immunizations
Prepared Childbirth
This session will help you prepare for your labor and delivery in a more knowledgeable and relaxed manner.
This class will include:
Signs of Labor
Stages of Labor
Birthing Room/Nursery Tour
Cesarean Birth
Breathing and relaxation techniques
Comfort measures to use in labor
Medications, Epidurals
Breastfeeding
This class will offer you the knowledge and support to help you successfully breastfeed your baby. We encourage mom's to attend this prior to your baby being born.
The "why to"
The "how to"
Latch on
Breastmilk production
Engorgement
Breastfeeding and work
Breast pumps
Collection and storage
Cesarean Birth
Scheduled Cesarean Birth deliveries are asked to attend admission/teaching sessions prior to your procedure. An OB nurse will call you to set up at your convenience.
Car Seat Education
Our Car Seat Inspection Station gives you the chance to gain educational information and assistance in choosing the correct car seat for your child. We have Certified Child Passenger Technicians that assist you in properly installing and securing your child in the appropriate seat.
Who should attend?
Everyone! Here at Franciscan Healthcare, it is our goal that all seats are checked prior to discharge. Making an appointment prior to your delivery allows flexibility in ensuring you have the correct seat for your child. It also allows us to check multiple vehicles, for example, dad's vehicle or grandma's vehicle.
When?
The 3rd Tuesday of every month from 2 - 5:30 p.m. by appointment only.
Call 402.372.4010 to schedule your appointment today.
---