LEARN HOW TO STOP THE BLEED®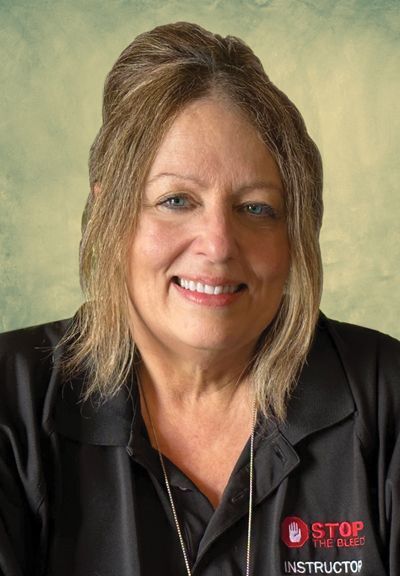 Franciscan Healthcare wants to help you save lives.
Uncontrolled bleeding is a major cause of preventative deaths. Approximately 40% of trauma-related deaths worldwide are due to bleeding or its consequences, establishing hemorrhage as the most common cause of preventable death in trauma.
Though manmade or natural mass casualty events get a lot of attention, serious bleeding is more likely to result from everyday injuries that happen at home, at work, or while on the road. 
The STOP THE BLEED® program teaches you how to properly use dressings, tourniquets and your own hands to control bleeding, regardless of the cause. 

Franciscan Healthcare's Anne Liska, PA-C, has received an educational license from the Department of Defense to train STOP THE BLEED® courses in West Point, Howells, Wisner, Oakland, Scribner, and Wayne, Nebraska.

STOP THE BLEED® classes are scheduled on the following dates and at the locations listed below.
None scheduled at this time. Please check back for updated information.
Class length is approximately one-hour and is FREE OF CHARGE.
For more information on how to set up a STOP THE BLEED® course for your local school, organization, or business, contact Anne Liska, PA-C, at Franciscan Healthcare's Wisner Clinic, 402.529.6516 or email aliska@franhealth.org.

ABOUT STOP THE BLEED®
STOP THE BLEED® is a national campaign to encourage bystanders to become trained, equipped, and empowered to help in a bleeding emergency before professional help arrives. It is a public/private partnership led by the Department of Defense and many other stakeholders.
Stop the Bleed Coalition is a community of individuals and organizations who are passionate about the STOP THE BLEED® campaign. The Coalition's goal is to support the growth and impact of the STOP THE BLEED® campaign by providing access to information and services to the growing STOP THE BLEED® community as well as financial support to the STOP THE BLEED® Project. 
Learn more at https://stopthebleedcoalition.org/